How can I play Pokemon Go from home and catch more Pokemon without having to move around? Is there a location spoofing program I can download on my phone and try?
I discovered how common it is for people to search for a reputable fake GPS spoofer as I came across this question posed on a reputable web forum. I have selected the top 5 tools in this post to assist you in choosing the best location spoofing app. Let's take a closer look at a few of these location spoofers!
1. Wondershare Dr. Fone Location Changer
By using Wondershare Dr.Fone Location Changer, you can make your GPS location teleport to anywhere in the world. With a single click, you will be at a completely new location. Every app on your phone will believe that you are in the entered location because of the virtual GPS location. You can select certain specific routes with two or more spots. You could customize everything from the walking speed to the pause movements with the help of this software. No app would be able to make out that you are using a location changer because the movements will look completely natural.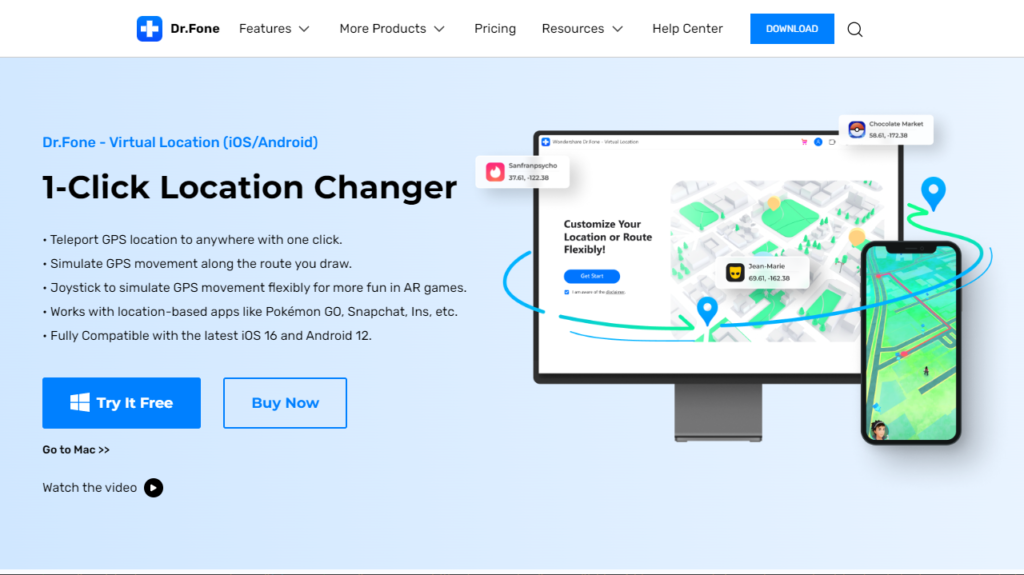 2. AimerLab MobiGo
AimerLab MobiGo allows you to simulate a natural movement on the planned route without lagging issues. This makes it pretty easy for you to play your favorite location-based games like Mobile Legends, Pokemon Go, and others without moving from your house. Now, you only need to make a single click for changing your GPS location. The app allows you to create routes between two different positions based on real roads. It also allows you to create routes for covering multiple spots. You can simulate the speed based on driving, cycling, and walking activities. A unique feature offered by MobiGo is the realistic mode. Here, you can vary the speed by -30% to +30% every 5 seconds. You can use this app to play your favorite location-based games, alter your location for better matches on dating apps, play a prank on your friends and family by sharing the spoofed location, and even hide your location to ensure that you are not being tracked. You can even import a GPX file for simulating the entire track easily.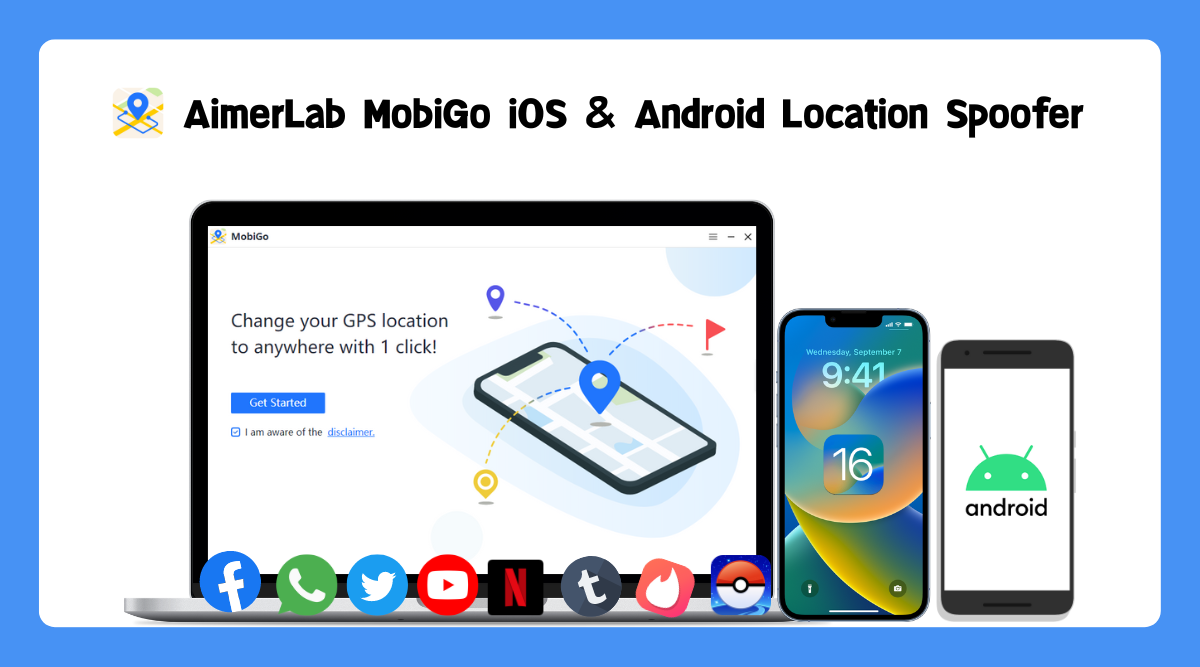 3. iMyFone AnyTo
iMyFone AnyTo has come up with simplistic options to spoof your location. Whether you are using an iOS device or an Android one, you can easily change your location with a single click. You can easily share some cool locations with your friends on social media platforms to trick and surprise them.
Features
●

Customized speed options
 can simulate the walking speed based on your favorable driving, cycling, or walking speeds.
●

Set Precise coordinates
 – by inputting exact coordinates, you can jump to that particular location in a second.
●

Pause in-between walks
 – to make it look more natural; you can configure the movements with pause and continue between your walks and drives.
●

Accurate records
– you can save the historical spots to revisit them easily.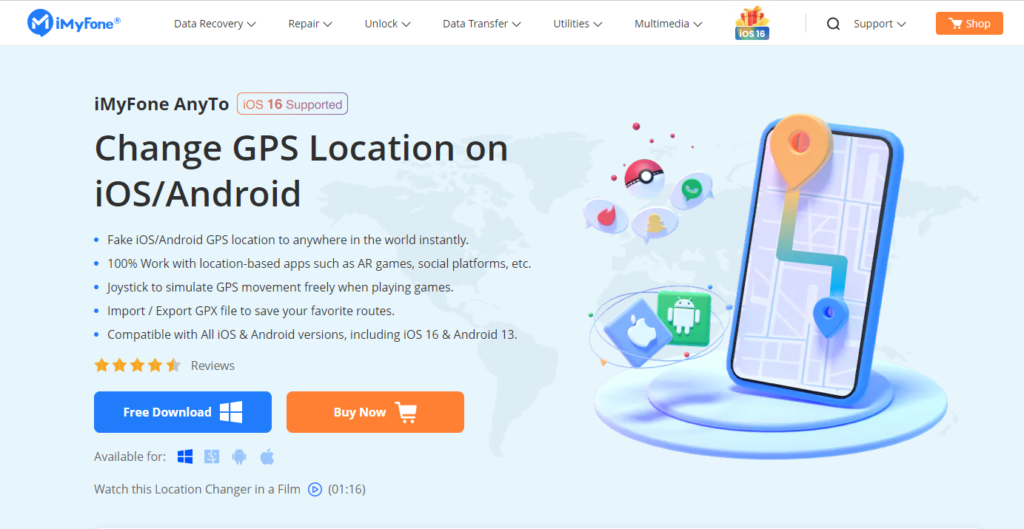 4. EaseUS MobiAnyGo
There is no need to jailbreak your iOS device to customize it. EaseUS MobiAnyGo provides users with a cost-effective and easy solution to spoofing their location. Now, you can easily prevent yourself from being tracked by using this software. People will see your location in a completely different place with a single tap as per the option you choose. Also, EaseUS MobiAnyGo allows you to manage the GPS locations of 5 different iOS devices at the same time.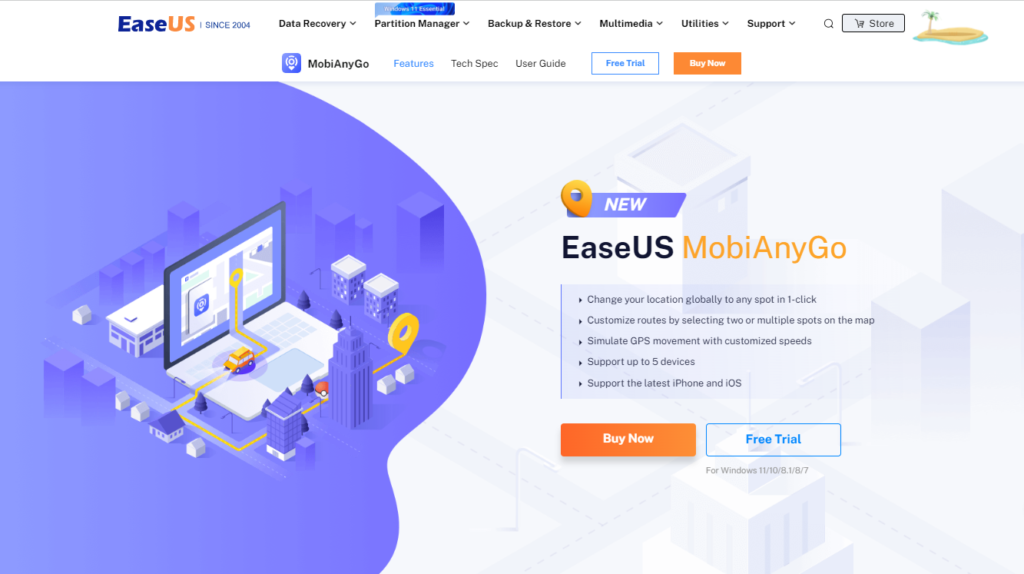 5. iMoveGo
Wootechy iMoveGo is a popular location converter for Pokémon Go and other applications on various GPS-based services. With WooTehcy iMoveGo, you can trick the official Pokémon GO app. It spoofs your GPS location on all location based apps.
●
Work well on a full range of location-based apps, such as Pokémon GO, Tinder, Life360, and Facebook.
●
Instantly teleport you to any place on the map safely.
●
Compatible with iPhones and Androids (including the latest iOS 16).
●
A free trial is available for every user to get an initial experience.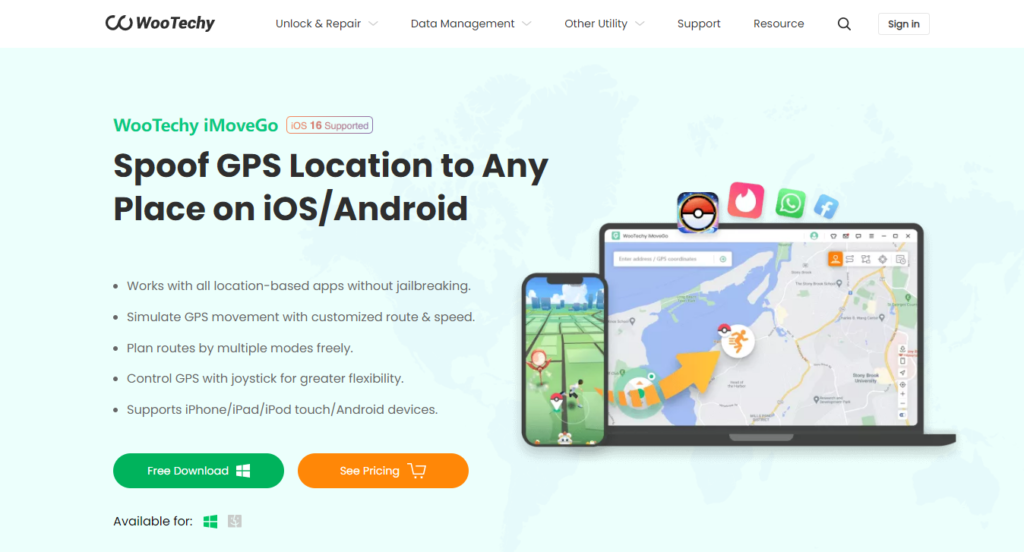 Conclusion
There are many GPS location changers you can choose to spoof your location. They will hide your location, prevent it from being tracked, work perfectly with geo-blocked apps, and much more. Among the apps listed above, we recommend you use AimerLab MobiGo, which has the easiest-to-use interface and perfect location spoofing function.