In this article, we'll conduct an AimerLab MobiGo full review to help you understand all information about this tool. 
Part 1: What is Aimerlab MobiGo?
Aimerlab is a supplier that provides easy and effective solutions to make your phone easier to use. Today, AimerLab has power-assisted 160,000 users everywhere around the globe in creating higher use of their phones.
With ever-increasing knowledge creep, the MobiGo GPS Location Spoofer app assists out-of-sight iOS and Android mobile devices' physical locations. All the while, the gap doors to various diversion and social opportunities.  
MobiGo simply permits you to set your iOS and Android device's geographical location to any place. With the MobiGo app, you'll be able to breeze past geo-restriction blockers and access streaming and gambling content. To boot, once paired with common geological dating and social networking apps, you'll be able to expect even more.
That's simply a style of its capabilities.
Now, let's dive deeper and see how this good location spoofer gets on. 
Part 2: MobiGo Main Features
MobiGo iOS/Android location changer will accomplish way more than simply imitating locations. It also can simulate natural movement, permits for virtual mock movements in preset ways, instant location skipping, and more. You can at the same time amend the GPS positions on up to 5 iOS/Android devices, moreover, you'll be able to add every location to your favorites list or get on anywhere in your history log.
1. Teleport Mode
Teleport mode is the application's easiest approach to adjusting your location. Once choosing a replacement place, your device just about transfers there with just one click.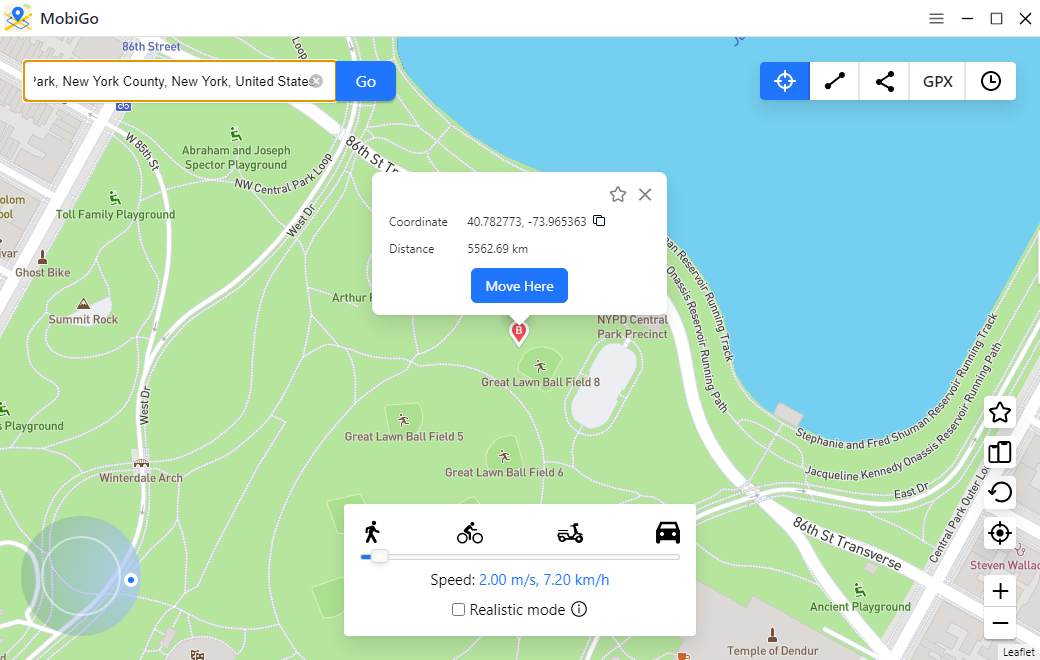 2. Two-Spot Mode
With Two-Spot mode, you'll be able to specify two locations on the map, and the application can simulate back and forth movement between them at your preset speed.
3. Multi-Spot Mode
Similarly, the Multi-Spot feature creates an additional elaborate route with various bearings. you'll be able to conjointly customize speeds between 3.6 km/h and 36 km/h (2.2 mph and a pair of mph). That way, you'll be able to simulate completely different movements like walking, jogging, cycling, or driving.  
4. GPX Files Routes
MobiGo location spoofer will incorporate GPX (GPS Exchange Format) files directly from your laptop to the application. With a transparent summary of the route, you'll be able to mimic the desired movements with simply a number of clicks.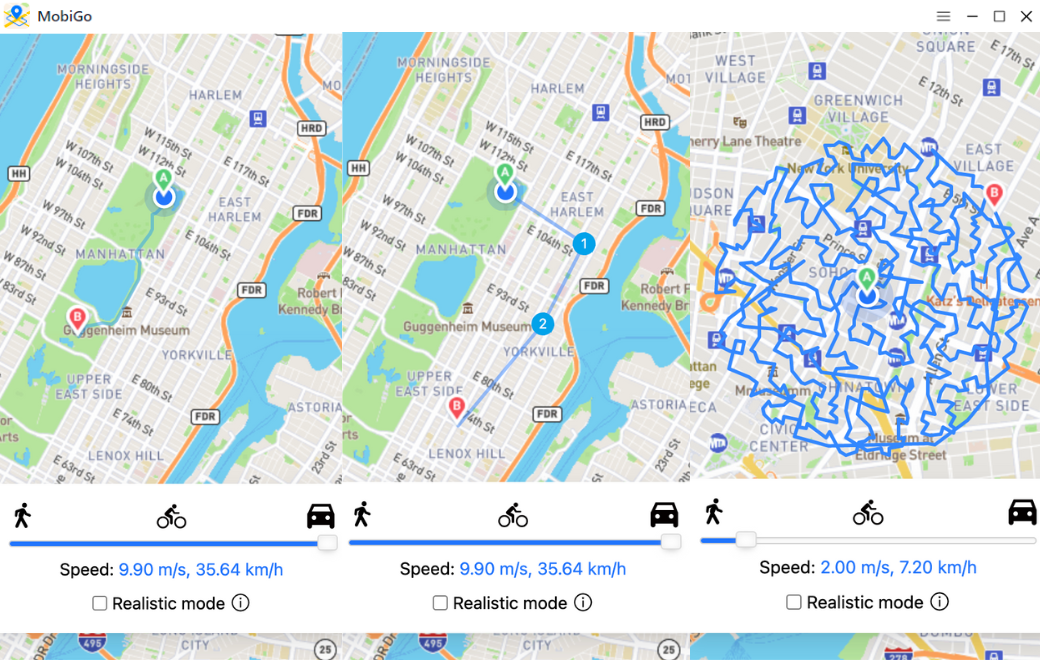 5. Joystick Control
Another exciting feature is Joystick management. victimization of your computer's keyboard, you'll be able to manually manage your simulated direction, giving 360-degree movement.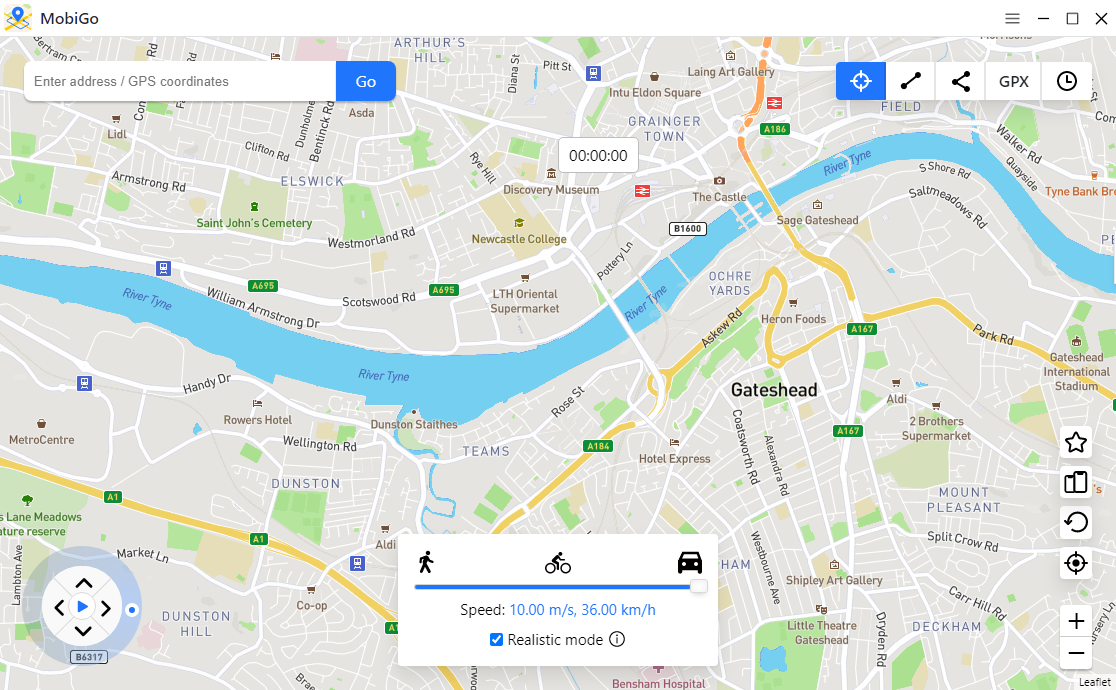 6. Realistic Mode (Random Speed Change)
Let's be honest, folks aren't robots and don't perpetually maintain a similar pace.  That's why MobiGo encompasses a Realistic mode that will vary your set speed by -30% and +30% at five-second intervals.
7. Favorite Location and Route Saving
From time to time, users, without doubt, can realize themselves covering similar tracks. handily, the Mobigo location spoofer helps you to save single bearings yet as prescribed routes.
8. Control Multiple Devices Simultaneously 
With MobiGo, you'll be able to the same time amendment locations on up to 5 devices, notwithstanding whether or not it is your iPhone, iPad, iPod or Android.
9. Ease of Use and Interface
MobiGo is intuitive purposely, and though you haven't antecedently used similar applications, you'll end up comfy.

Part 3: How to Use AimerLab MobiGo?
For this Aimerlab MobiGo review, we tend to test MobiGo on a MacBook Air with an iPhone 12. Let's see how to change location with AimerLab MobiGo:

Step 1: Click the "Free Download" button to get AimerLab's MobiGo and install it.

Step 2: Launch MobiGo, thean click "Get Started" to continue.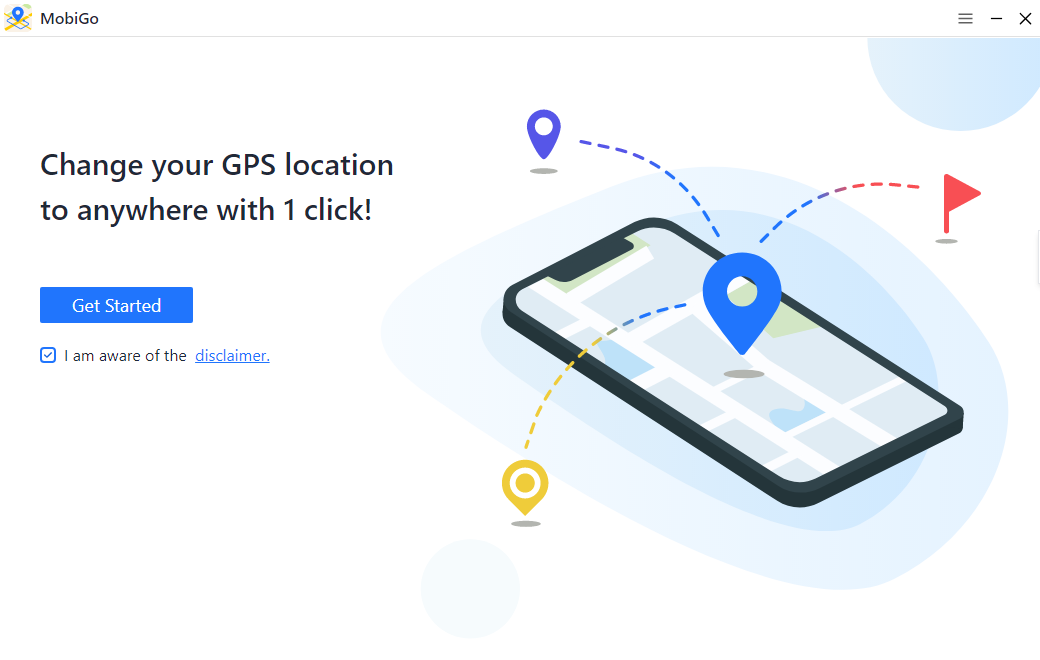 Step 3: Choose your device to connect to the computer, then click "Next".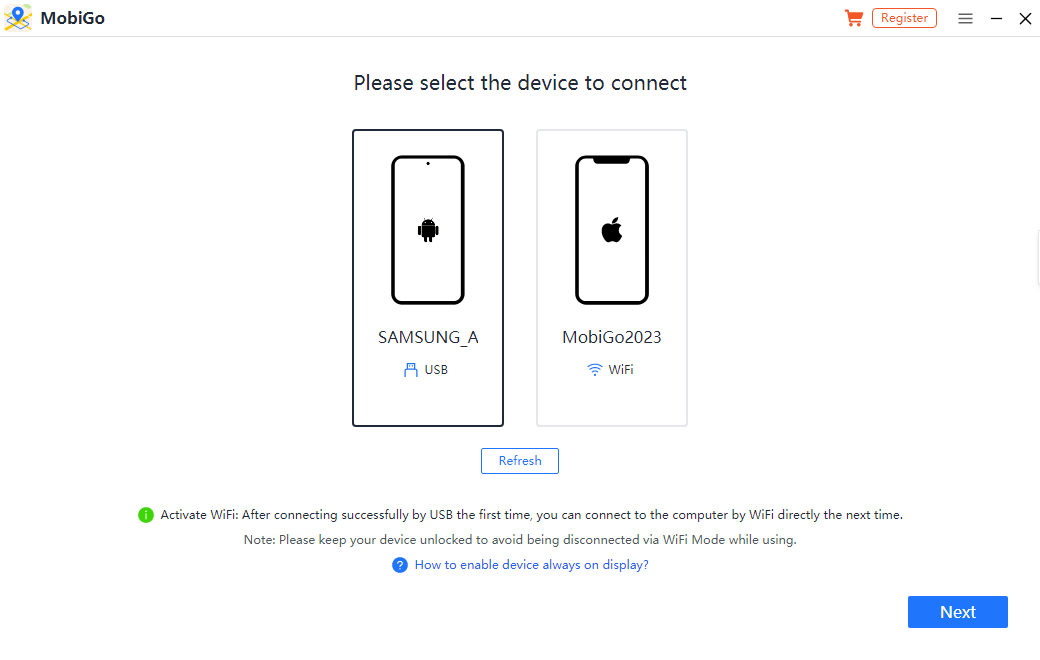 Step 4: For iOS 16 users, it's required to turn on the developer mode. For Android users, you should turn on the developer options, enable USB debugging and install MobiGo on our phone.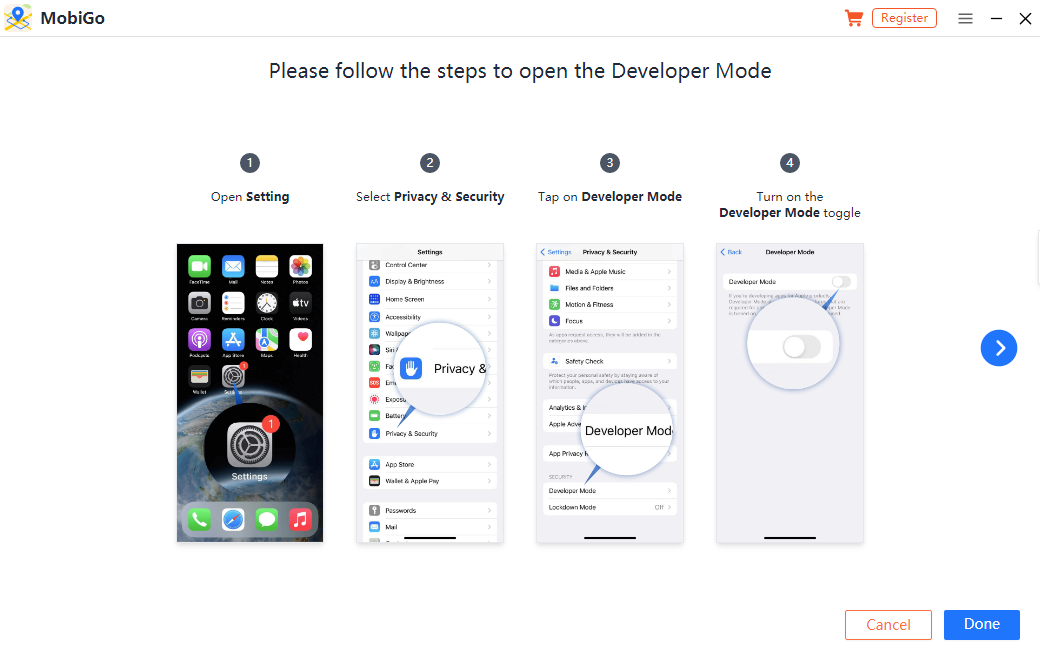 Step 5: After setting the developer mode your iPhone or Android phone will be connected to the computer.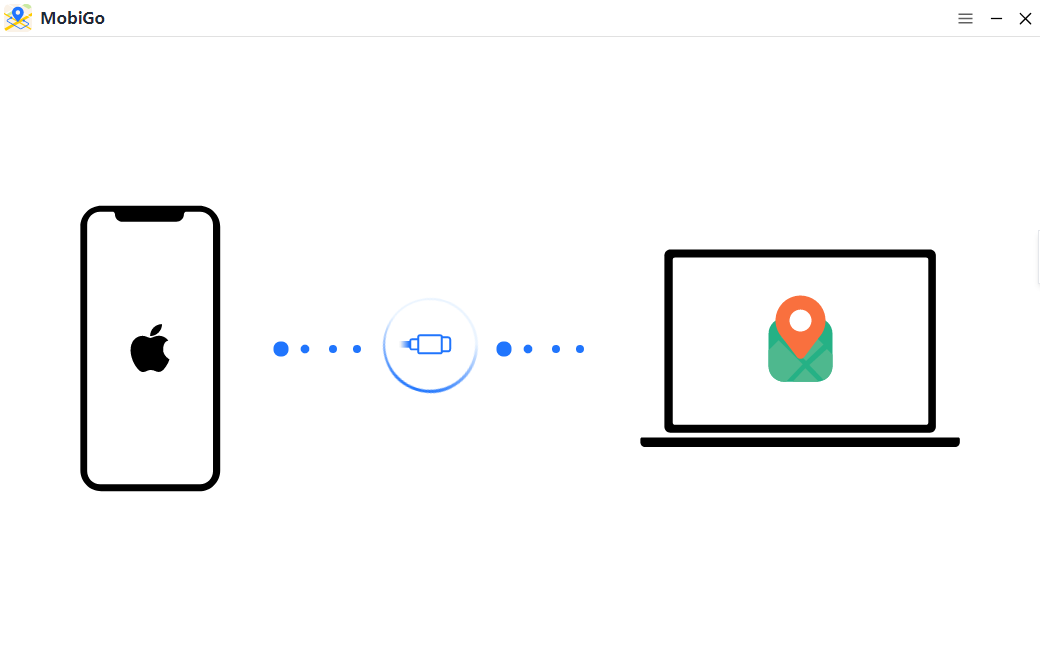 Step 6: Your current location will be shown on a map in teleport mode. You can choose any area to teleport to by typing an address into the search bar or by simply clicking on the spot on the map. Then, click "Move Here" to begin teleporting your GPS location to the chosen destination.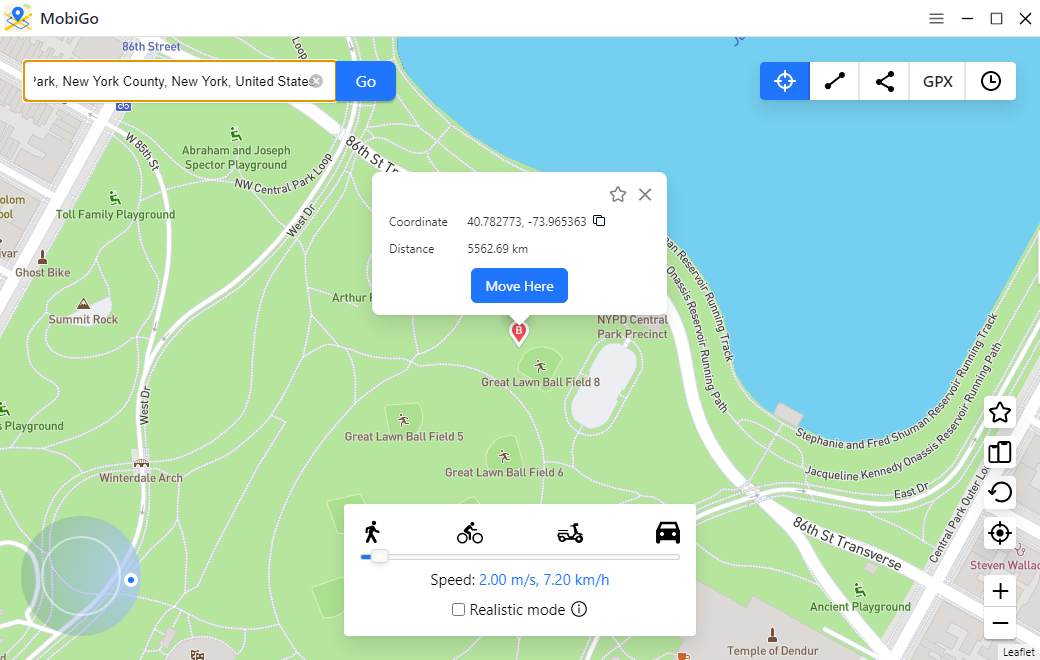 Step 7: When MobiGo finished teleporting., you can open the map on your phone to check your current location.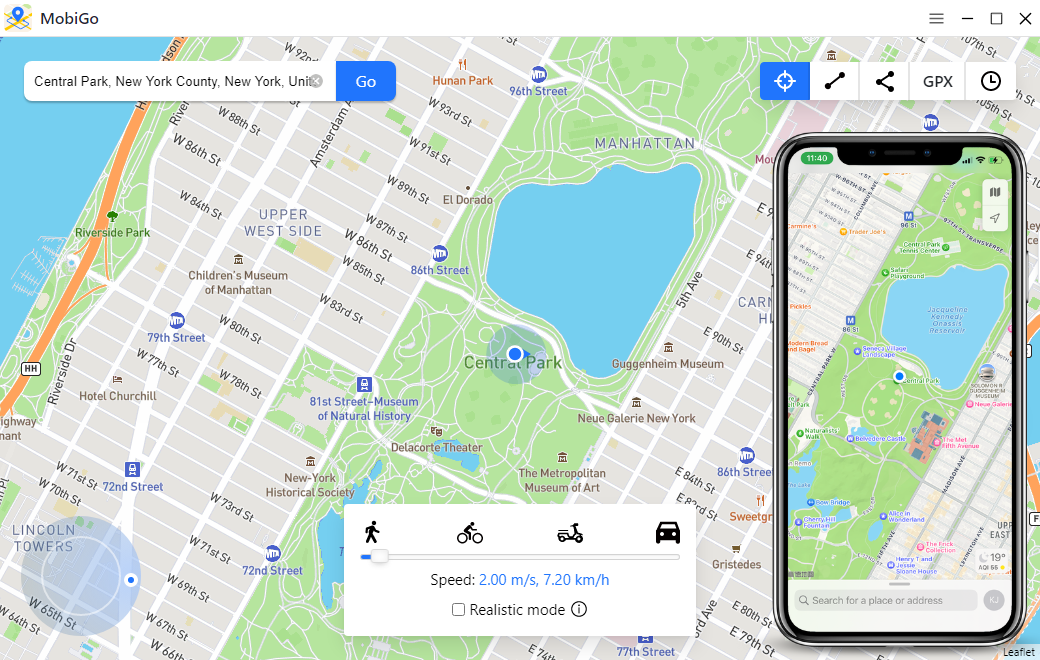 To know more about how to use this software, you can click here to view AimerLab MobiGo Full User Guide.
Part 4: MobiGo Support
MobiGo reviews and impressions online are usually positive. Aimerlab will an excellent job at explaining how the program works and includes comprehensive guides on its webpage. The FAQ section covers everything from payments to tips and tricks for additional advanced users.
Jumping onto the MobiGo app is more simplified, as Aimerlab revealed a number of educational video clips on its YouTube page.
Additionally, you'll be able to reach client service through email. whereas live chat is right, they are doing their best to reply promptly. Our expertise shows that it's best to explain your issue intimately, as well as your OS, and once doable, offer screenshots.
Part 5: MobiGo Pricing List
The MobiGo transfer page options free-to-download applications for each macOS and Windows. Macintosh users are ready to run the app on Apple devices with macOS ten.10 and up. Windows computer users will install the code on Windows seven, 8, and 10.
The free version of Aimerlab's MobiGo can demonstrate a way to use the app and supply a restricted range of location changes. Multi-stop and one-stop modes will only be used once, whereas the transport and joystick functions are restricted to a few bearings.
When upgrading from the Aimerlab MobiGo free version, user restrictions are an issue of the past, and you'll unlock unlimited access to any or all options.
Each valuation arrangement permits to be used on up to 5 devices and one computer or macintosh. you'll be able to make a choice from a wide range of subscription periods to fulfill your spoofing wants. the choices include:
●
Monthly – $9.95
●
Quarterly – $19.95
●
Annual – $39.95
●
Lifetime – $59.95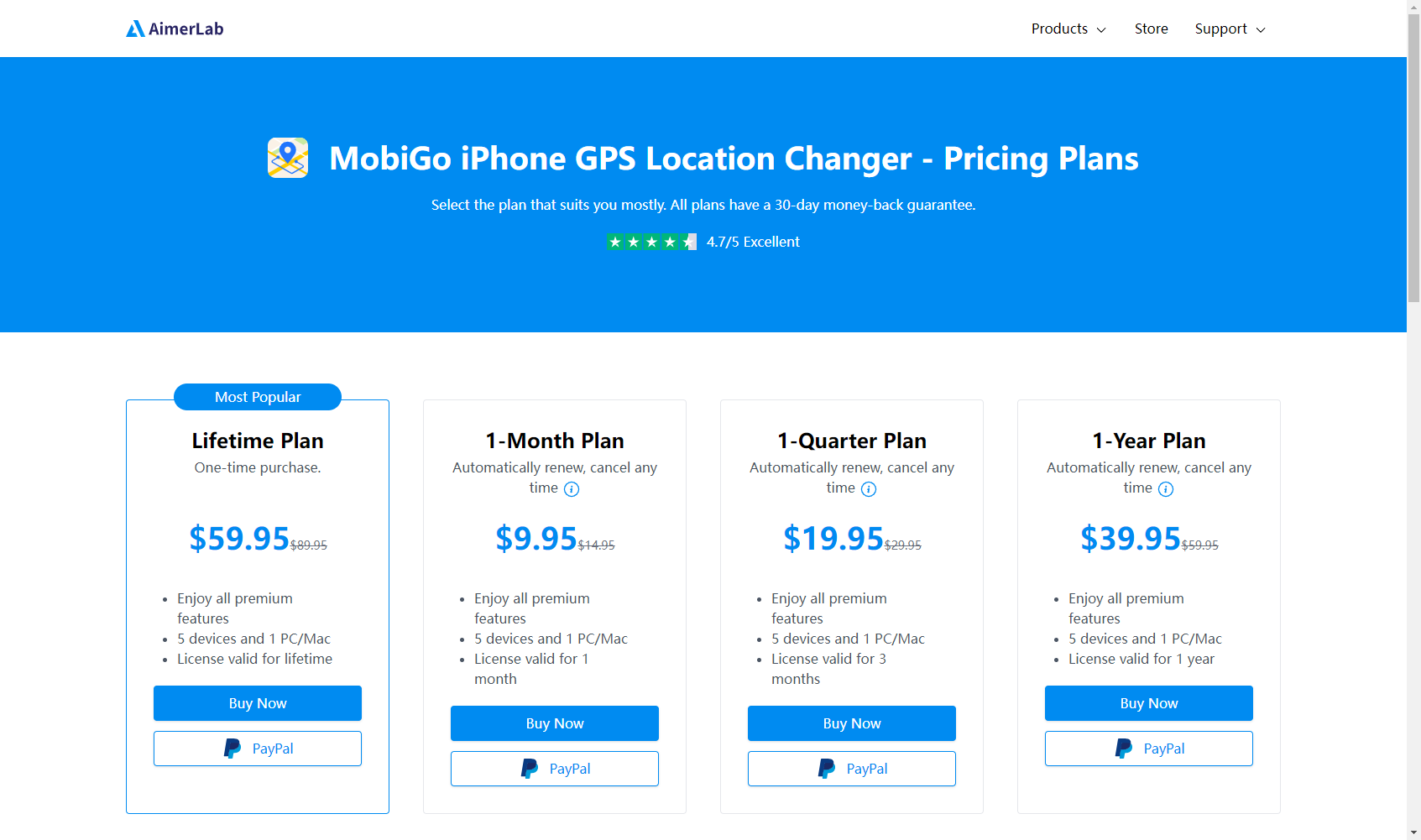 Providing peace of mind, all MobiGo plans keep company with a convenient 30-day money-back guarantee. Update to MobiGo Pro and get all the features.
Part 6: Conclusion
AimerLab MobiGo is an app that saves you the trouble of jailbreaking your device to spoof your location. On top of that, it does its job perfectly well and puts a lot of tools in your hands to make your experience s smooth as possible. According to our evaluation of Aimerlab MobiGo, we suggest giving it a try because it's simple to use, functional, and will enable you to access geo-restricted content. To get you started with the best location-changing software, MobiGo offers you a free trial. Why not download MobiGo and find out how easily this software works.