Many Pokémon GO gamers across the world find that discovering those rare species is the pinnacle joy for racking up additional points. However, in order to make the game more intriguing, the producer puts various barriers in the path, the biggest of which turns out to be the geographical barrier. Using a Pokémon GO spoofer is the most popular and logical solution to the issue.
While there are many Pokémon GOspoofing apps in the market, it's not that easy to find the right one. Fortunately, this article will take you through a detailed guide on the top 5 Pokémon GO Spoofing tools for iPhone.
1. iMyFone AnyTo (iOS 15 Supported)
It's possible that you haven't heard of this location spoofer before, but as a brand-new utility, iMyFone AnyTo has emerged as one of the top applications for falsifying GPS position in Pokémon Go. It works with both iOS and Android devices. You may switch to any location in Pokemon Go with a single click to capture more Pokemon.
You may regain control over your pokemons' entire future with the help of our expert Pokémon Go faking app. Additionally, Pokemon Go makes it simple to replicate GPS movement. so that you don't have to walk to capture Pokemon or hatch Pokemon eggs.
Here is a tutorial on how to use iMyFone AnyTo to fake an iPhone's location for Pokémon Go.
Step 1: Setup iMyFone AnyTo
Install iMyFone AnyTo on your PC by clicking the Try It Free button below. Then select Get Started after opening it. Use USB to connect your phone to the computer. For the prompt, click Trust on the device.
Step 2: Select Teleport Mode
By default, your map will show where you are on the map after it has loaded. In the top right corner, select the third icon, Teleport Mode.
Step 3: Pick a fake address for Pokémon Go
Just point to a location on the map where you wish you were. Vancouver, for example.
Vancouver may be located on a map by dragging, or it can be looked up using the search bar. The information, including the address, coordinates, and distance, will then be displayed by this Pogo spoofer. To find your location, you can zoom in and out of the map.
Alright! Simply press the Move button at this time. You can immediately see that the location has moved to the new position.
You'll discover that you've successfully faked your position in Pokémon Go when you launch the game. You can now continue exploring the application and its extensive set of benefits for avid Pokémon Go players.
2. TUTU App
The TUTU App is an excellent Pokémon Go spoofing app. It is also one of the market's most popular third-party applications. It, like other models, allows you to catch all of the Pokémon you want without having to physically maneuver in three dimensions. Of course, this is not the only great feature. Others include:
Not having to hunt down Pikachu.
Joystick control for easy movement.
Functions like the regular Pokémon Go app.
Enables things like teleport and faster motion.
Even for novice users, installing it only requires a few steps.
Step 1: Install the TUTUApp on your iOS device as the first step.
Step 2: Navigate to the app launcher.
Step 3: Use the search box to find Pokémon Go and download it.
Step 4: Follow all of the prompts to make it your home screen.
Once everything is in place, you can navigate your avatar using the screen prompts. If you have any questions, there is an instructional section within the app. So you can go to that area for help. Because this is such a popular application searcher for third-party providers, it is usually safe for iOS devices. Therefore, you won't have to worry about Pokémon Go bans.
Another useful tip for avoiding bans while spoofing:
To be extra cautious, manually enter the coordinates where you want to search for Pokémon. This ensures that information is consistent and that no red flags are raised.
When you do step outside, teleport return as quickly as you can to your last location after letting your Pokémon spawn there.
When you've finished playing Pokémon Go, you can exit the app.
With all these precautions, it is surprisingly easy to avoid detection.
On the other hand, if you are more technologically savvy, jailbreaking should be a breeze. Some users prefer to go through the process of disabling the factory-set controls on their iOS devices. A location spoofing Pokémon Go app that only needs a quick jailbreak is the ideal tool for you if this applies to you. Without leaving your comfort zone, you may tour the globe. The ideal application is Nord VPN.
3. Nord VPN (iOS Jailbreak Needed)
The most frequently endorsed program for hiding your location in Pokémon Go is Nord VPN, which has long been validated by users. By using a powerful proxy server app that hides your IP address from being associated with your location, Virtual Private Networks (VPN) can conceal your true location. Pokémon Go scans IP addresses as a way to ping your physical address, but doing so will prevent you from experiencing the consequences of spoofing.
It has a significant list of features:
Activate Pokémon Go (with spoofing benefits).
Keeps you safe with encryption technology.
Works on six distinct connections simultaneously.
Provides the advantages of more than 5000 global servers.
Does not restrict your bandwidth.
While setting up a VPN for your iPhone, iPad, or iPod is a little challenging. You must initially jailbreak your iOS device, as we explained before. Additionally, confirm that your iOS version is iOS 12 or an earlier version. Check to see if iTunes is up to date in the meanwhile. After that, you can begin.
Step 1: Install the NordVPN app from the App Store.
Step 2: In the settings, disable your screen passcode.
Step 3: Connect the device via USB to your Mac/Windows.
Step 4: Set your device to Airplane mode.
Step 5: Go to this website and follow the instructions. Then, make sure your trust settings recognize the developer.
Step 6: Next, launch the site-downloaded application.
Now you successfully finish the jailbreak. Then, you can discover how to trick Pokémon Go's GPS.
Step 7: You can access the Cydia Store (an app merchant for devices after jailbreak). Then get the location spoofer from Cydia as well.
Step 8: Ensure you have tsProtector enabled.
Step 9: Enable the VPN on your smartphone, making sure it corresponds to the location you selected in the spoofer app.
Step 10: Start playing Pokémon Go. 
Once this is established, you can confidently go for all of your desired rare Pokémon.
4. PokeGo++
If you are looking for another Pokémon Go Spoofing for iOS, you should know PokeGo++. It is well-known for having a variety of features that make playing it enjoyable and simple to use.
These include:
Joystick operation for easy movement.
Only impacts your location in the game.
Does not require physical movement.
Enables teleportation in the game.
Boosts the velocity of your avatar (up to 8 times)
However, the problem is that PokeGo++ doesn't seem to work for some users.
FYI, we still give the guide below.
Step 1: Delete the Pokémon Go application (assuming it is already on your device).
Step 2: Set up your BuildStore on your iPhone or iPad
Step 3: Install PokeGo++ (sometimes referred to as PokémonGo PRO) from BuildStore.
Step 4: Use Pokémon Go to log into your current account.
Step 5: Choose Settings (the gear icon) on the map screen.
Step 6: Enable Fake Location under the Spoofing menu.
Step 7: Reserve your place by selecting the proper timeline (usually, this is "Forever".).
With this installed, navigating your character between locations just requires the usage of the joystick (instead of physically moving around). It is typically safe and has been examined for malicious code and overall performance because it is a component of the BuildStore.
5. iSpoofer
iSpoofer app gained popularity due to its joystick additions and teleporting capabilities. This method is extremely popular among rural or remote populations due to its ease of use. However, iSpoofer has recently been shut down, which means that neither Pokemon Go nor iSpoofer can be downloaded on iOS, and thus iSpoofer is no longer available.
Amongst its key features are:
Throwing power. 
Automatic waling capabilities with GPX.
Tricks like fast catching.
Live fed maps supporting your surroundings.
We won't go into too much detail about the next strategy because it is no longer effective.
6. AimerLab MobiGo
With the MobiGo Pokemon Go location spoofer, you can now play all location-based AR games like Pokémon GO without actually moving or walking!
MobiGo easily allows you to set your iOS device's geographical location to anywhere. All the while, no jailbreaking is required of your iOS mobile device – ensuring its Apple warranty remains intact.
With the MobiGo app, you can breeze past geo-restriction blockers and access streaming and gaming content. Additionally, when paired with popular dating and social network apps, you can expect even more.
It's main features include: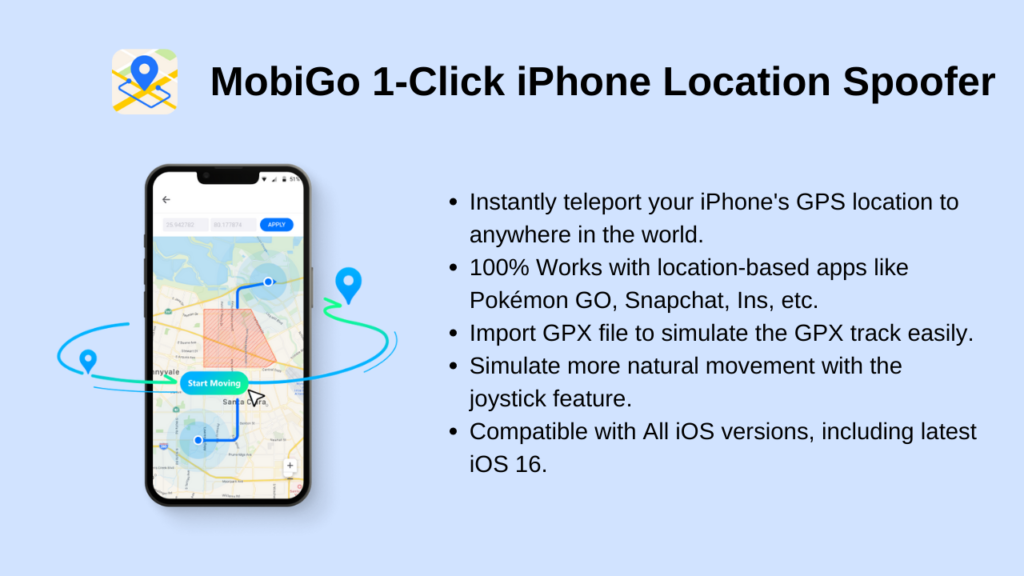 Steps to use AimerLab MobiGo
Step 1. Connect your device to a Mac or PC.
Step 2. Select your desired mode.
Step 3. Choose a virtual destination to simulate.
Step 4. Adjust the speed and stop to simulate more naturally.